André Tchelistcheff, the "Dean of American Winemaking," was a seminal figure, a legendary winemaker, and one of the most remarkable men of the twentieth century. His influence and contributions almost singlehandedly made possible the rapid development in the quality of wine in the United States after the repeal of Prohibition. For over five decades, he worked with numerous wineries that together helped establish the American wine industry: Beaulieu, Charles Krug, Louis M. Martini, Buena Vista, Firestone, Schramsberg, Stag's Leap Wine Cellars, Hanzell, Heitz, Simi, Chateau Ste. Michelle, Hoffman, Jordan, Quilceda Creek, Sequoia Grove, Villa Mt. Eden, Conn Creek, King Estate, Rodney Strong, Niebaum Coppola, and many more.
Though small in stature, André seemed larger than life, and all those who knew him experienced him that way, for he was a mountain of energy and inspiration. He brought together the science of enology with the patience of viticulture and the art of winemaking. Countless technologies that are now routine in wineries around the world – cold fermentation, stainless steel tanks, controlled malolactic fermentation – were developed by André and tested in Napa and Sonoma.
He was known as "The Maestro" and "The Winemaker's Winemaker" and believed in sharing information and teaching all those who yearned to make great wine. He mentored countless winemakers: Louis Martini, Robert Mondavi, Joe Heitz, August Sebastiani, John Daniel, Mike Grgich, Richard Peterson, MaryAnn Graf, Warren Winiarski, Rob Davis, Michael Silacci, Mike McGrath, Jan Shrem, Rick Sayre, Marco Cappelli, Heidi Peterson Barrett, Jill Davis, and others. He taught young winemakers that they could make a wonderful wine whether they were in Napa, Sonoma, Oregon, or Washington. His students and protégées now make wine in all corners of the world, weaving the subtleties they learned from him into their work. Years after his death, many still ask themselves in time of crisis or decision, "What would André have done?"
André Tchelistcheff was born in 1901 of an aristocratic lineage in Moscow. His father was the Chief Justice for the Supreme Court in the Russian Justice system. André was brought up both on the estate near Kaluga and in Moscow, so from an early age he lived like many of the gentry of his time, enjoying both life on the estate with early home schooling followed by gymnasium studies in Moscow, where city life was full of dinners and intellectual gatherings. This wonderful life came to an abrupt stop during the Russian Revolution, when the Bolsheviks denounced the Tchelistcheff family and André's father was put on the first list by Lenin to be exterminated. The family estate was destroyed, and their beloved hunting dogs were hung from the trees that lined the road up to the estate.
The family, through André's father's connections, fled Moscow using false passports. This was a scene straight out of the wonderful film "Dr. Zhivago": the film was to become André's favorite, moving him to tears every time he watched it.
André averted death a number of times, the first as an infant when he suffered a massive abdominal inflammation in a time prior to the advent of penicillin, and then as a Lieutenant with the White Russian Army during the Russian Revolution on the frozen steppes of the Crimea. After fleeing Moscow, André asked his father, who at the time was the Minister of Justice for the Southern White Army Government, if he could enter the officers' school in Ekaterinodar (now Krasnodar). Once André's officer training was completed, he joined the war in Crimea. During this time, the family was told of his apparent death and held a memorial service for him. Meanwhile, André was recuperating after being saved by a Cossack on the frozen battlefield. This unknown soldier threw André's cold and unconscious body over his horse to medical help and safety.
After the defeat of the White Armies by the Bolsheviks in 1920, André, as an officer, was evacuated to Gallipoli along with most of his fellow troops, where he was then discharged and permitted to travel with his family from Constantinople to Yugoslavia. He was then sent to Bulgaria to work in the mines, and as one of those who had military documents he had the fortune to get a slot to study at Brno University in Czechoslovakia. Although from an early age André wanted to study medicine, he began agricultural and viticultural studies in Brno.
Upon graduation, André moved to Yugoslavia and then France where tragedy knocked on the door again. He and his good friend Prince Troubetskoy put all their savings together and started a farm raising poultry. Soon after, a massive hailstorm killed all their birds. André, with his lifelong resilience, looked at reinventing himself and through his interest and constant curiosity in microbiology and the endlessly unfolding mysteries of fermentation, enrolled in graduate courses at the Institute of Agronomy and at the Pasteur Institute. Thereafter he worked for the great Champagne firm of Moët & Chandon and in the laboratories of Nicolas, one of France's most prominent wine retailers.
In 1937, Georges de Latour came to France looking for a winemaker and asked Professor Paul Marsais at the Pasteur Institute who was his best student and winemaker, at which point Professor Marsais directed him to André, saying that he was his best but was not French! And so the journey began: Georges de Latour offered André a contract with Beaulieu Winery and André relocated with his family to the Napa Valley in 1938.
André would remain working at Beaulieu for 35 years and then return again during the last few years of his life. Upon André's arrival, the California wine industry was still weakly struggling out of the devastation of over thirteen years of Prohibition. Some wineries had survived by producing sacramental wines and tobacco additives, which was certainly no foundation from which to make quality wine. At the time, one wine reviewer said, "Americans would do better to drink beer rather than wines from California." After repeal in 1933, the greatest demand was for sweet wines for the indiscriminating drinker. André was thrust into this primitive environment where the methodologies of enology and viticulture had been in a state of almost complete arrest for 20 years.
At Beaulieu, he was shocked at the high temperature of the cellars. He went from barrel to barrel, finding the dessert wines acceptable and the dry wines poor. The winemaking processes were primitive at best. Many of the grapes being used were high yield, coarse varieties. He found careless chemistry and vinegary wines. The tiny, rudimentary laboratory shocked this meticulous researcher accustomed to the experiments and controls in France where the technology, although very commercial, was also very exacting.
He stopped the over-sulfuring of wines and vineyards and the guesswork addition of chemicals to tanks full of must. He pioneered the cold fermentation of whites and rosés, control of malolactic fermentation in reds, frost protection, and the prevention of grape diseases. He stopped the practice of dumping large amounts of ice into the crusher to bring down temperatures during the blazing bursts of heat during Napa Valley's harvest season. He spent years replacing rusty cast iron piping, valves, pumps and crusher parts that were causing unacceptably high metallic concentrations in the wines. In many instances, it meant expensive glass enameling, as stainless steel was not yet then available.
André also pioneered the study of viticulture, seeking out the best varietals to plant in various regions and climates. He was among the first to plant Pinot Noir and Chardonnay in Carneros. He studied the varied terroir of Napa Valley, identifying areas where world-class Cabernet Sauvignon could be made. And he recommended the planting of Pinot Gris in Oregon and the cultivation of Cabernet Sauvignon in Washington State.
Life in California had also its dark days for André. During the years after Georges de Latour's death, he was often frustrated as the family was reluctant to finance improvements to the winery that he thought were essential. The recession of the early 1950's also impacted the laboratory that André had founded in downtown St. Helena where he consulted, taught and mentored so many early winemakers. Due to the economic climate, his clients were unable to pay him and he was forced to close the lab.
This recession also affected a partnership he had formed with Frank Bartholomew to renovate the historic Buena Vista Winery in Sonoma. After putting significant work and investment into the property, André was forced to sell his fifty percent share back to Bartholomew and give up his dream of owning a winery. The 1960's ended with a surprise, when in 1968 André was shocked and disappointed to find that he was the last one to learn that Beaulieu had been sold to Heublein, the large liquor corporation. He loyally stayed on after the sale, but finally retired in 1973 from BV.
During this time of turmoil in the late 1950's and 1960's, sunlight shone into André's life when he met Dorothy, the love of his life. He married her and spent the rest of his years with her. Dorothy was a great inspiration for André, giving him the love, support, and structure that he needed to pursue the next chapter in his life. So the difficulties at Beaulieu opened up an opportunity for André to renew himself: he retired from Heublein in April of 1973 and the very next day he began working as an independent consultant to a number of wineries, the first of which was Simi Winery.
This allowed André to do the worked that he loved with a new generation of winemakers throughout Napa, Sonoma, Santa Barbara and the Pacific Northwest, including his nephew Alexander Golitzin of Quilceda Creek winery. This was the period of André's life that he enjoyed the most, mentoring and sharing his knowledge with those who had the great passion for the vine to the wine.
To all who met André, he was an inspiration and wonderment in his being and articulation. André once recalled a Beaujolais as "a young woman, barefoot, the wind blowing in her hair, ruffling her blouse. She has the look on her face of an early peach, a teen-age beauty."
Among those first young winemakers that he mentored after retiring from Beaulieu was the first woman winemaker in America, MaryAnn Graf. In 1965, she became the first woman to graduate from the viticulture and enology program at the University of California at Davis. MaryAnn and André worked together closely for many years at Simi. When asked to reflect on her relationship with André, she told Wines & Vines Magazine that "He is the master of description: each word so perfectly defines right down to the subtlest nuance..." and then she came up with an anagram as a "telling description of my great friend":
A rticulate, Ageless
N aughty
D emocratic, Debonair
R esourceful
E ngergetic, Ebullient
T ireless
C ompassionate
H andsome
E nthusiastic
L ogical
I ntellectual, Impish
S erious, Suave
T yrannical
C harming, Complex
H ardworking, Honest
E xacting
F rank
F ascinating
Added Ms. Graf: "He is missing the letter 'G' for Gentleman – always."
From one moment to the next, André's life unfolded like an epic novel full of great drama, from his tragic experiences and sad losses to his grand achievements. Throughout it all, André was that true gentleman, a man like no other in a century where chivalry was often forgotten. His achievements were recognized internationally, with the French government naming him a "Chevalier" in 1954 and an "Officier du Mérite Agricole" in 1980. He was also awarded the 1970 Merit Award of the American Society of Enologists (of which he was a charter member) and the 1980 Award of Merit of the American Wine Society.
André's quotes on wine can be read in numerous books on wine and the stories of his influence are woven throughout the histories of countless wineries in the United States. He loved what he did until the very end and talked about "wine as a joy of life" to all who would listen. He once said, "Wine is an intellectual beverage. It does not have the toxicity of liquor. Taken in moderation, it opens the mind. I have seen an introvert, after two glasses of wine, open like a flower."
This film too, we hope, will open viewers to the grand possibilities of life. André followed his passion, took great risks, and influenced so many. He served as muse to an entire generation of winemakers who have made our world so much more wonderful by creating this magical nectar.
"Always on the go, often busy and in a hurry, but always able to find time to help someone. I have many warm memories of Tchelistcheff, his gracious smile, his thick curly eyebrows, his rich Russian accent. The deep creases etched in his face were lines of wisdom and time. Always a gentleman. Always a pleasure to be around."
Jim Laube, Wine Spectator, May 31, 1994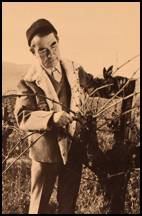 COPYRIGHT NOTICE: All texts, pictures, videos, graphics or logos of this website are protected by U.S. and International copyright. Any use, reproduction, distribution or publication of excerpts or elements of the website without prior written consent is prohibited. Any and all copyright infringement will be persecuted to the fullest extent of the law.